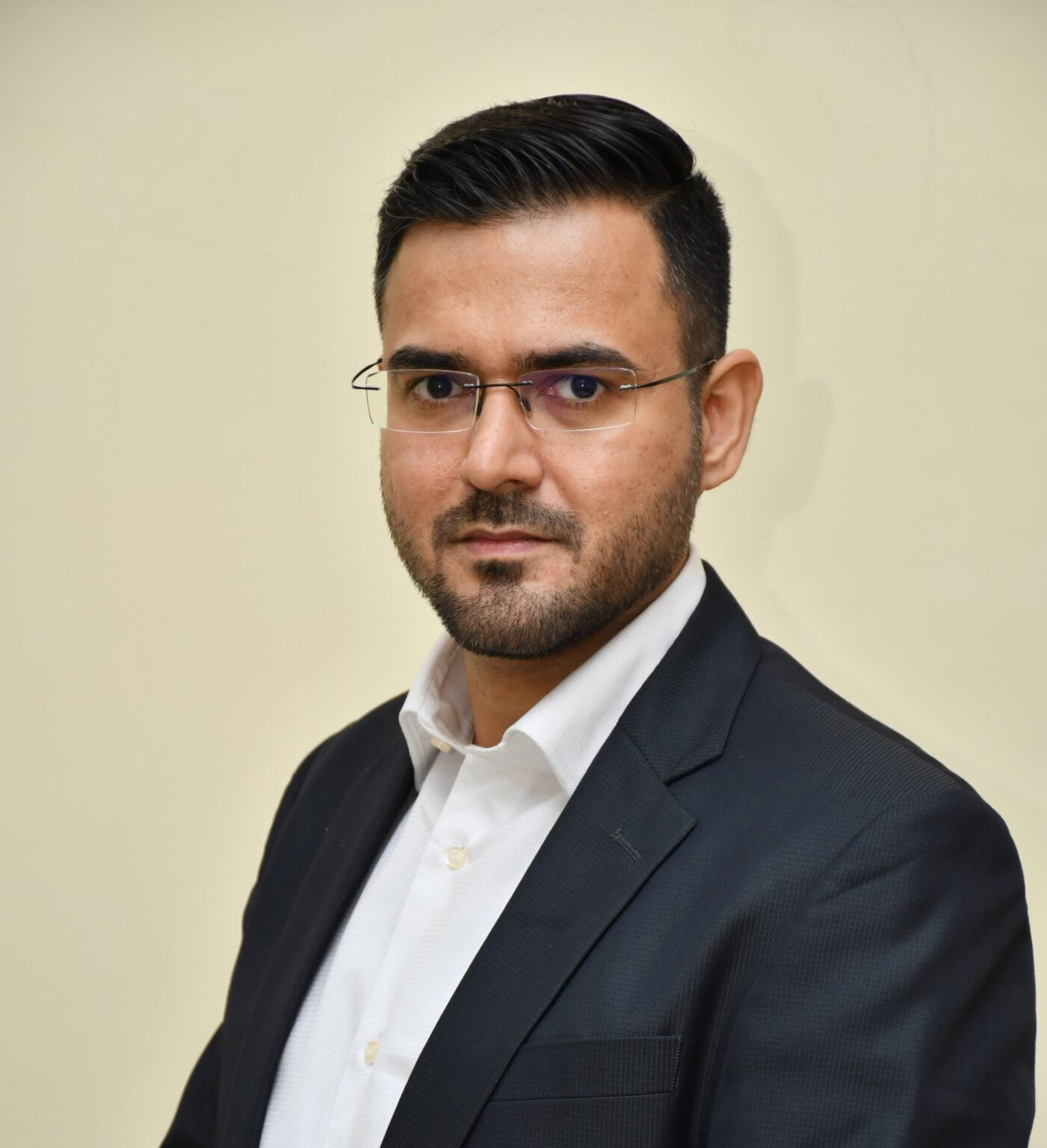 Ques.1- It is said that Vice-Chairman is the role model of the students. And if he is young and impassioned it's like "SONE PE SUHAGA". Isn't it? So how are you passionate about the students of the ITS?

Ans: I believe in going with the times. And yes, being young surely helps exploring modern practices while keeping our traditions and culture intact. I believe passion is something self-induced in an individual and it has to come from within. However, I try to provide opportunities that ignite student's passion by making education interesting and motivating.

We, at ITS, try to strike a balance between the traditional academic activities and innovative modern practices. There is a plethora of academic and non-academic activities throughout the year to help students develop both academic excellence as well as social skills. We also organize alumni meet, industry connects, inter-college events, celebrity nights – these platforms help students understand the current micro and macro environments and thus, prepare them more comprehensively to take on the upcoming challenges in their career.

To sum it up, I believe that as long as they are curious to know more about their field, as well as, the additional fields they would touch in their professional lives, they will continue to learn and excel. It will gradually lead them to the road to success.

​

Ques.2- As you are the young Educationist and have been in the Education sector for over one decade. So what are the changes you see in traditional Education and how do you see the present scenario in Higher Education?

Ans: I arrived at ITS Education Group in the late 2000s after completing my graduation from Purdue University (US). Traditional education was quite different back then and has considerably changed now. Today, education is more innovative, digital, and business-based, where the focus is put on upscaling the skills of the students to make them career ready. Campus placements have become far more essential now, both for students as well as the college management. It has paved a way to secure a student's future without them stressing for employment after graduation.

With the involvement of start-up cells and incubation cells for students, the higher education of today has reached new heights and will continue to evolve more. The present scenario of education has become quite open and provides more opportunities where students can become job seekers, entrepreneurs, or teachers with the support of the institution. This is quite evident from the economical stature of India which is growing at a faster rate than other countries in the world.

I particularly focus more on technologies that have led to industry disruptions such as AI. The advancement of Artificial Intelligence will surely transform the scenario of employment as well as the education system in the coming years. ITS- The Education Group will consistently strive to adapt to these changes and elevate their students.

Apart from the above changes in engineering & management courses, the dental courses have undergone major upgrades. There are special sessions on practice management, then there are companies aligned for campus placements etc. which weren't the norms a few years back.

​

Ques.3- Most of the Educators and Education societies are welcoming the NEP 2020. According to you, what are the positive features of policy?

Ans: The NEP 2020 policies are indeed ground-breaking and I highly appreciate it's vision of making schooling available to everyone. The holistic approach of 5+3+3+4 curriculum, replacing the traditional 10+2 approach, will surely shift the paradigm of our education system, making it innovative, interest driven based and more creative for students of all age groups.

As per NEP 2020, the rigid separations between subjects' stream will be done away with. Students will have the liberty to choose subjects they would like to study across streams. Vocational education to be introduced in schools from Class 6 and will include internships as well. It will allow students to be more flexible with their career options and change it as per their interests and the industry dynamics. This will lead to passionate& creative individuals who will lead the industry and contribute in building a stronger economy and a developed nation. It will match with our end goals as a multi-disciplinary institute.

Another aspect is the adaptation of the Phygital Model—The Physical and Digital model of teaching which is much more convenient at a time when the pandemic is still prevalent. NEP 2020 is indeed a 'monumental step' for the progressive education industry in the 21st century.

Ques.4- For those Students who are starting their own start-ups or come up with unique, innovative ideas, which kind of support you are giving to them?

Ans: If any student is interested in starting their own business, ITS Engineering has established New Gen IDEC which is geared towards converting business ideas into a commercial reality through start-ups. It hosts strong incubation centers within the campus, namely 'The department of science and technology (DST)' and 'MSME'.

DST is incubated with the support of 2.5 Lakh rupees while MSME supports the idea with 15 Lakh rupees, thus incubating the idea into a prototype. Once the prototype is ready, the college will support them in getting patents and getting the intellectual property registered. If the idea is marketable enough, the college will also provide seed funding. Our institute vows to support the entire business activity right from space, power, and equipment requirements to all the other things required for a successful running of the start-up companies.
Today, the institution holds a solid base of 10 ongoing start-ups running successfully since its establishment including grants from the involved ministries.
Ques.5- If we talk about ITS Group, 5 key features which attract students from across India and overseas?
Ans: 1- The ITS Legacy – It's been more than 26 years since the group's inception in 1995. With age, comes experience and wisdom. We have learned to identify the rightful opportunities by adapting sustainable educational practices, thus gaining trust from students and industries. This is something that only comes from age and experience.
2- National Recognition – ITS- The Education Group has been accredited with NBA, NAAC, ISO, CSIR, DSIR, and IIC for its credibility, innovation & excellence. Further more, our colleges have been renowned with 'The Institute of the year' in North India, NIRF ranked institute, ARIIA listed institute amongst many others. This is all due to the to the relentless efforts by my father/ family and the management into making the group to what it is today and will continue to be.
3-Holistic Industry Connect – Our group doesn't simply restrict the curriculum to academics. We also encompass industrial practices, workshops, expert talks, national and international conferences, sports, co-curricular & extracurricular activities, and lifelong learning skills, thus transforming them into successful future leaders in their respective fields.
4- Excellent Industry Placements- Our institutions have often been classified as the best placement college for offering jobs to the maximum number of students in engineering, management, IT, Dental and pharmacy. Some of the top premium recruiters include Wipro, IBM, Byjus, Deloitte, Clove Dental, HDFC Bank, Airtel, India Mart, LG, Oppo, etc.
5- Reaching out to the Society- Our group drives by the motto to serve the society and nation. We strive to offer an extra supporting hand to the unprivileged sections of society through free girl-child education, medical care, and satellite centers. We focus more on giving than taking. We hope our students adopt the same morals and give back to the needy to serve a healthy nation.
Ques.6- What does ITS do to emphasize experiential learning to prepare future-ready professionals?
Ans: The mission of our institution is to bridge the gap between academia and the industry requirements which is done through training the students with the requisite technical and non-technical skills.
For our engineering and management students, industrial exposure is possible from various channels through industrial visits, clinical exposure, expert talks, international conferences, internships, and workshops. With state-of-the-art infrastructure, laboratories, and modern learning practices, we have designed our curriculum to suit the needs of engineering, business, medical, and scientific research in a healthy growing environment.
Students are provided skill training from day one of their semesters. This includes technical, non-technical, and confidence-building skills. We encourage our students to pursue certificate courses related to their core field and participate in co-curricular activities. By the time the placement drive begins, the students are well-versed in their chosen technologies. With these ventures, we can transform our students into future-ready professionals.
For our dental students, we have disrupted the education model by segmenting the student batches into smaller groups for a more personalized teaching and guidance. Smaller batches allow students to have a better and deeper understanding of dentistry concepts and enables them to provide comprehensive treatment and care to the same patient.
Also, in our pursuit of embracing leading technology in dentistry, we have introduced Cone Beam Computed Tomography (CBCT) machine which allows my students to perform full 3D imaging while diagnosing patients. We have also introduced Oral Scanners (from Israel) which provide a detailed analysis of the dental ailment and automatically generate entire treatment models. We have special Implantology clinic where students work on dental implants, one of the most complex yet path-breaking advancements in dentistry. Such leading technology hands-on allows students to provide better treatment to their patients, once they start their own clinic, or join one. And for that, we have special sessions on practice management by leading dentists where we prepare our students understanding the specific considerations before venturing into opening their own clinic.
To reiterate, our group believes in the holistic development of students. We don't restrict their education to academics only. We also encompass industrial practices, workshops, sports, co-curricular & extracurricular activities, and lifelong skill learning within our pedagogy. Our education practices enhance their ability to learn and innovate, thus transforming them into successful future leaders in their respective fields.
Source: - https://fortunepost.info/the-institution-holds-a-solid-base-of-10-ongoing-start-ups-running-successfully/
ITS – The Education Group Donated 11 lakh to fight with corona
ITS Dental College has been the epitome of inspiration to all the colleges of India in being proactively involved in many social causes. Our honorable Chairman, ITS-The Education Group, Dr R.P. Chadha donated 5.51 lacs towards Prime Minister Care Fund and 5.51 lacs to Chief Minister COVID Care fund amounting to a total of 11 lacs on behalf of I.T.S-The Education Group. The two cheques were handed over to General V.K Singh (Union Minister of State for Road Transport and Highways).
International Women's Day Celebration on 05.03.2020
​
Convocation Ceremony at ITS Dental College, Greater Noida on 14.03.2020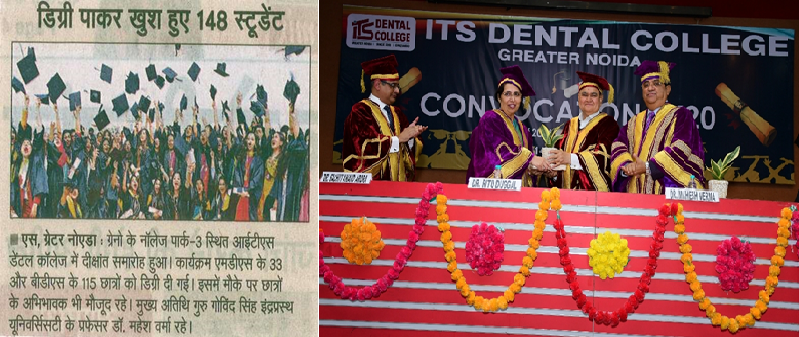 ITS Dental College, Greater Noida held its Annual Convocation Ceremony on 14th March 2020 for the Fifth batch of M.D.S 2016 and outgoing B.D.S 2014 batch on completion of their course.
On this occasion, the function was organized to confer degrees to the Graduate and Postgraduate students. This day would be etched forever in the history of ITS Dental College, Greater Noida as it hosted Dr. Mahesh Verma, Vice Chancellor Guru Gobind Singh Inderprastha University, Delhi, as the Chief Guest. Dr Ritu Duggal, Chief, CDER Aiims, Delhi, Dr. R. P. Chadha, .Chairman, ITS- The Education Group graced the occasion as the Guest of Honor. Vice Chairman – Mr Sohil Chadha, Mrs Shruti Chadha, Secretary – Mr B.K.Arora, the Director Public Relations - Mr. Surender Sood, Principal – Prof.Dr Sachit Anand Arora, Head of Medical & Dental Department, faculty members and parents of the students were present on this solemn occasion to motivate the students to find their path and excel in the future.
Workshop on Cyber Crime on 31.01.2020`
ITS Dental College, Greater Noida organized workshop on "Cyber Crime" in association with Amar Ujala Foundation held on 31 January 2020.
Mr. Kislay Chaudhary and his team was facilitate the session. Mr. Chaudhary is the President and CEO of Indian Army. Advisor, Investigation unit of UP Police, MP Police, Rajasthan Police. Chief Editor of Hacking Today- Magazine for Hackers. Principal – Prof.Dr Sachit Anand Arora, Operations Head – Mr. Ashutosh Singh, staff and faculty members were present on this workshop.