ITS – The Education Group Donated 11 lakh to fight with corona
ITS Dental College has been the epitome of inspiration to all the colleges of India in being proactively involved in many social causes. Our honorable Chairman, ITS-The Education Group, Dr R.P. Chadha donated 5.51 lacs towards Prime Minister Care Fund and 5.51 lacs to Chief Minister COVID Care fund amounting to a total of 11 lacs on behalf of I.T.S-The Education Group. The two cheques were handed over to General V.K Singh (Union Minister of State for Road Transport and Highways).
International Women's Day Celebration on 05.03.2020
​
Convocation Ceremony at ITS Dental College, Greater Noida on 14.03.2020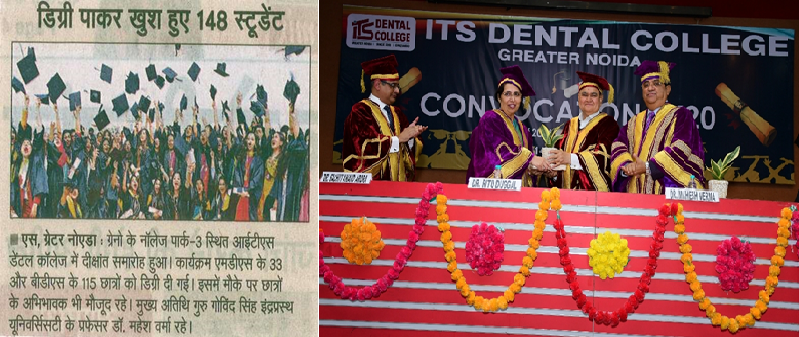 ITS Dental College, Greater Noida held its Annual Convocation Ceremony on 14th March 2020 for the Fifth batch of M.D.S 2016 and outgoing B.D.S 2014 batch on completion of their course.
On this occasion, the function was organized to confer degrees to the Graduate and Postgraduate students. This day would be etched forever in the history of ITS Dental College, Greater Noida as it hosted Dr. Mahesh Verma, Vice Chancellor Guru Gobind Singh Inderprastha University, Delhi, as the Chief Guest. Dr Ritu Duggal, Chief, CDER Aiims, Delhi, Dr. R. P. Chadha, .Chairman, ITS- The Education Group graced the occasion as the Guest of Honor. Vice Chairman – Mr Sohil Chadha, Mrs Shruti Chadha, Secretary – Mr B.K.Arora, the Director Public Relations - Mr. Surender Sood, Principal – Prof.Dr Sachit Anand Arora, Head of Medical & Dental Department, faculty members and parents of the students were present on this solemn occasion to motivate the students to find their path and excel in the future.
Workshop on Cyber Crime on 31.01.2020`
ITS Dental College, Greater Noida organized workshop on "Cyber Crime" in association with Amar Ujala Foundation held on 31 January 2020.
Mr. Kislay Chaudhary and his team was facilitate the session. Mr. Chaudhary is the President and CEO of Indian Army. Advisor, Investigation unit of UP Police, MP Police, Rajasthan Police. Chief Editor of Hacking Today- Magazine for Hackers. Principal – Prof.Dr Sachit Anand Arora, Operations Head – Mr. Ashutosh Singh, staff and faculty members were present on this workshop.